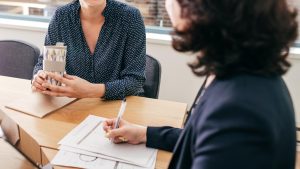 In setting out to address the increasing number of domestic assaults, the first step taken in 2012 was assembling a group of 20 governmental and nonprofit agencies to form the Family Violence Task Force. By 2014 the group began researching the Family Justice Center model and in January 2018 funds for the initial startup costs of a Family Justice Center were made available through a partnership between the Springfield Police Department, the Greene County Prosecutor's Office and the Greene County Sheriff's Office. Then the building began!
Getting Started
In February 2018 the National Family Justice Center Alliance, a program of Alliance for Hope International, conducted a Study Tour in Greene County which found our community well-suited to implement the Family Justice Center model. In April 2018 more than 100 individuals from 50 agencies participated in a two-day strategic planning session. Of those participants, 60 worked together to complete the additional planning necessary to launch.
The Greene County Family Justice Center (GCFJC) opened October 1, 2018 as the only operating Family Justice Center in Missouri and the first Family Justice Center to receive affiliation with Alliance for Hope International before opening. In June 2019 the Family Justice Center received nonprofit status under the name Greene County Family Justice Center Alliance.
Partners
Those facing intimate partner violence or who are victims of human trafficking typically need much more than just a safe haven. We are proud to partner with several local agencies and other nonprofits that provide onsite services including crisis intervention, counseling, civil legal services, assistance with emergency shelter, , and access to vital community resources like SNAP, Medicaid and affordable housing, just to name a few. Our full-time, onsite partners are:
Harmony House
The Victim Center
Legal Services of Southern Missouri
Burrell Behavioral Health
Springfield Police Department
Greene County Sheriff's Office
Greene County Prosecutor's Office
Children's Division
Child Support Office of Family Support Division
Process
Walk-ins are welcome and encouraged. Everyone who visits the Family Justice Center will meet with a navigator (community advocate) who will serve as a guide to connecting the client with the various community agencies.
When a client arrives at the Family Justice Center, they can expect a welcoming, comfortable and safe environment. There is no need to bring anything and children are welcome to come as well. A support person is welcome to accompany the client, but they may be asked to wait outside of the room during parts of the visit to ensure client safety and comfort.
All services provided by our community-based advocates/navigators are free of charge and confidential. This means that any information shared with a navigator/advocate will be held in confidence and cannot be shared. This is a privilege protected by law. Although members of Springfield Police Department, Greene County Sheriff's Office and the Prosecuting Attorney's Office are on site, they cannot collect any information from Family Justice Center records or staff without written consent from the client.
Funding
Current seed funding for the Family Justice Center is provided by Greene County through a partnership between the Greene County Prosecutor's Office, Greene County Sheriff's Office, and Springfield Police Department. The long-term goal of the Greene County Family Justice Center to be a free-standing, self-sufficient non-profit organization that continues to improve coordination of comprehensive victim services through collaborative partnerships. The Greene County Family Justice Center Alliance  accepts donations to support the mission of the Family Justice Center in the form of money, supplies and volunteering.
You or your organization can help by hosting a donation drive or purchasing items from our Amazon Wishlist.
You can also donate through the Community Foundation of the Ozarks.
About GCFJC
The Greene County Family Justice Center is a non-profit collaborative of local agencies offering comprehensive services to survivors of domestic, sexual, and family violence. Our services are trauma-informed, survivor-centered, and we welcome survivors at any point in their process. We partner with local non-profit service providers as well as local law enforcement, the Prosecutor's office, and Children's Division to make victim services more accessible and completely voluntary. If you do not want to participate in the criminal justice process, we support you.
Our vision is a future where we all work together to meet the needs of domestic violence and human trafficking survivors through comprehensive and accessible services, education and perpetrator accountability. Through a coordinated framework and co-located response, we strive to break the vicious generational cycle and community impact of domestic violence and resulting victimizations.
We can help you plan for your safety whether you plan to stay in the relationship, or you are actively trying to escape. All of our services are free, confidential and survivor centered. Have questions about what services are available? Visit us at 1418 E. Pythian Street or give us a call at 417-874-2600. We are open 8:30 AM to 4:00 PM, Monday through Friday. For after-hours assistance, call the Harmony House/Victim Center's 24-hour safe line at 417-864-SAFE (7233). If you are in immediate danger, please call 911.